Disciplines of Olympic Cycling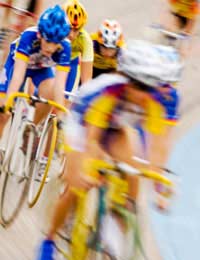 Cycling is one of the few sports to have been contested at every Olympics and, although the programme has varied, it now includes track, road, mountain bike and BMX racing. In all, 18 events were disputed in Beijing, the majority of them in the velodrome.
The oval track of the velodrome is banked at 42 degrees and hosts 10 events: the men's sprint, individual pursuit, points race, keirin, Olympic sprint, team pursuit, Madison and women's sprint, individual pursuit and points race.
Aerodynamic bikes offer greater speed than ever, although the pay-off is poorer manoeuvrability that leaves them ill-suited to pack racing. The 1984 Los Angeles Games saw an influx of futuristic bicycles and the spokeless, carbon-fibre disc wheel made its debut.
Technological Revolution
Eight years later in Barcelona, Chris Boardman won Great Britain's first cycling gold medal since 1920. It came in the 4,000metres individual pursuit using a revolutionary bike designed by Mike Burrows and built by Formula One car designers Lotus. Boardman set world records of four minutes 27.357 seconds and 4:24.495 in preliminary rounds and lapped world champion Jens Lehmann of Germany in the final. His bike made full use of carbon-fibre technology and aerodynamic cross-sections, and weighed less than nine kilograms.
At the Sydney Games in 2000, the men's keirin, Madison and Olympic sprint races were introduced, as was the women's 500m time trial, which has since been dropped. The programme includes individual and team events, sprint and endurance races, pursuits, time trials and first-over-the-line finishes.
The Olympic sprint is a three-man team event and two teams compete, starting at opposite ends of the track. The aim is to catch the other team or finish three laps first. The Madison is a mass-start event featuring teams of two riders, although only one rider from each team is on the track at any one time. Points are awarded to the top finishers in intermediate sprints and in the finishing sprint. The keirin is a 2,000m race that builds up in speed behind a motorised derny for the first 1400m and concludes in a furious sprint finish.
Kings of the Road
Road racing, like track racing, was part of the first modern Olympics in 1896, with riders covering two laps of the marathon course in Athens - a total of 87 kilometres. Women had to wait until 1984 to compete and at Atlanta in 1996 time trials were introduced.
Four events are now contested, the men's road race over 239km and the women's over 120km. Road races begin with mass starts, but time trials are raced against the clock with riders starting at 90-second intervals. The men's race is 46.8km, the women's 31.2km.
Mountain biking made its Olympic debut in 1996, although the sport was 20 years old by then. Members of the Velo Club Mount Tamalpais establishing mountain biking when they invented the Repack Downhill race, held regularly between 1976 and 1979 just across the Golden Gate Bridge from San Francisco. By 1990 it had become a truly professional sport, complete with World Championships.
Mountainous Courses
Men's and women's cross-country races are on the Olympic programme. Men race between 40 and 50 kilometres, and women cover 30 to 40km, the exact distances being dependant on weather conditions, with officials aiming for an optimum finishing time of two hours and 15 minutes for the top man, two hours for the top woman. The course is typically very hilly, sometimes mountainous, is usually on natural terrain and riders may have to manoeuvre over rocks, streams and branches.
Bicycle moto cross (BMX) made its debut at the Beijing Games, with one event for men and one for women. BMX started in the late 1960s in California, and had reached Europe by 1978. In April 1981, the International BMX Federation was founded and the first World Championships followed in 1982. Since January 1993, BMX has been fully integrated into the International Cycling Union (UCI).
Races are held on circuits of around 350m including jumps, banked corners and other obstacles. Eight riders contest each heat - qualifying rounds, quarter-finals, semi-finals and finals - with the top four advancing to the next round.
You might also like...