Former Olympic Sports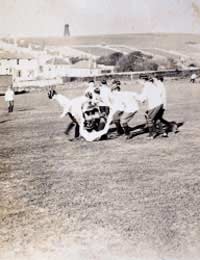 Baseball and softball will become the first Olympic sports to be dropped for 76 years when they are cut from the programme for the London 2012 Games. In recent times, the trend has been to add sports to the Olympic programme, but in the early part of the 20th century it was not uncommon for sports to be axed.
Polo made its last appearance at Berlin in 1936, having featured at the Games five times. Teams of mixed nationalities competed in the first Olympic polo tournament in 1900, Great Britain won gold in 1908 and 1920, and Argentina took the title in 1924 and 1936.
Rugby Union bowed out in 1924 and, although a return for the sport in the form of rugby sevens has been mooted, there are no definite plans for its reintroduction. Hosts France won gold in 1900, Australasia won in 1908 and the USA triumphed in the only other two tournaments, in 1920 and 1924.
First Winter Games
The introduction of the Winter Olympics in 1924 cut short the association of both ice hockey and figure skating with the summer programme. Figure skating had appeared in 1908 and 1920 and ice hockey in 1920 at Antwerp. Tug of war, won twice by Britain, also made the last of its five appearances in 1920.
Four sports - rackets, lacrosse, jeu de paume and water motorsports - were axed after the 1908 Games in London. Jeu de paume, or real tennis, is an ancestor of lawn tennis and made its one and only Olympic appearance in London, as did rackets - an indoor sport related to squash - and water motorsports, which involved racing powered boats around five laps of course eight nautical miles long. Canada won the only lacrosse tournaments held, in 1904 and 1908.
Roque, an American derivative of croquet, appeared at the 1904 Games in Saint Louis, but only Americans took part. Golf made its second and last appearance in 1904 too.
Croquet Clean Sweep
There were three sports - Basque pelota, cricket and croquet - made their only appearances at the 1900 Games in Paris. Nine of the 10 competitors - seven men and three women - in the croquet competition were French and, not surprisingly, the host nation took a clean sweep of medals.
Four nations were expected to contest the cricket tournament, but Belgium and Holland pulled out and left Britain and France to compete for gold in a two-day game. Britain batted first, scored 117 and bowled out France for 78. The Brits then scored 145 for five in their second innings to set the hosts a target of 185. The French fell well short, being bowled out for 26.
Like in cricket, there were only two nations represented in the Olympic Basque pelota tournament. A ball sport played on a two-walled court, Basque pelota has numerous variations and players can be barehanded or may use a bat, racket or special glove that extends into a long, curved basket. Spain defeated France to earn gold in 1900, and Basque pelota has been a demonstration sport in 1924, 1968 and 1992.
You might also like...