Rules and Skills in Olympic Shooting and Archery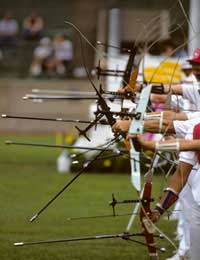 The bullseye in Olympic archery measures only 12.2 centimetres in diameter and archers have to hit it from 70 metres away. The accuracy required is staggering and only those with rock-steady hands and nerves of steel stand a chance.
South Korean Soo-Nyung Kim proved she had those qualities in abundance at her home Games in Seoul. She struck gold in both the individual and team events at the age of 17, defended her individual title in Barcelona four years later and came out of retirement to add a fourth gold medal in the team event in Sydney.
There are four events in Olympic archery: men's and women's individual and team competitions. The target measures 122cm in diameter and is marked with 10 concentric rings, with the centre ring worth 10 points. The outer ring counts one and rings in between increase by one point in value as they near the centre.
Aim for Gold
In individual events, archers are ranked from one to 64 and compete in head-to-head knockout matches. Semi-finals winners compete for gold and silver, while losing semi-finalists shoot for bronze. Each archer shoots six ends of three arrows - with a time limit of 40 seconds per arrow - until the quarter-finals, when archers shoot four ends of three arrows. Teams consist of three archers.
Archery featured at the 1900, 1904, 1908 and 1920 Games but then disappeared from the Olympic programme until 1972. Standard equipment is now a recurve bow coated in fibreglass and arrows made of aluminium and carbon graphite that can travel at more than 240 kilometres per hour.
Historians believe archery dates back to the Stone Age - around 20,000BC - but the earliest people known to have used the bow and arrow were the ancient Egyptians 5,000 years ago. The first known organised archery competition was at Finsbury, England in 1583.
Shooting Stars
Shooting events at the Olympics fall into three general categories, with competitors using rifles, pistols or shotguns. There are 17 events in all: men's 10m air pistol (60 shots), 10m air rifle (60 shots), 25m rapid fire pistol (60 shots), 50m pistol (60 shots), 50m rifle three positions (3x40 shots), 50m rifle prone (60 shots), double trap (150 targets), skeet (125 targets), trap (125 targets), and women's 10m air pistol (40 shots), 10m air rifle (40 shots), 25m pistol (30+30 shots), 50m rifle three positions (3x20 shots), skeet (75 targets) and trap (75 targets).
In pistol events, competitors stand, hold and fire the gun with one hand and must ensure the wrist is free of support. Points are earned by shooting at a 10-ring target. In clay target events - trap, skeet and double trap - competitors typically use 12-bore shotguns that fire cartridges containing small pellets. The clay, or target, has a diameter of four inches and is fired from mechanical traps at differing heights and speeds.
On Target
Small bore rifles are single loaded, with 5.6 millimetre calibre (diameter of the firearm's bore, or barrel), while air rifles shoot pellets propelled by air and are 4.5mm calibre. Competitors shoot from prone, standing and kneeling positions, depending on the event, and earn points shooting at a 10-ring target.
When the National Rifle Association was formed in 1871, it sparked the development of shooting as an organised sport in the USA. Shooting has been contested at most Olympic Games, although it was absent in 1904 and 1928. Women were allowed to compete for the first time in 1968, and separate events for women were introduced in 1984.
You might also like...