Rules and Weight Divisions: Olympic Judo and Taekwondo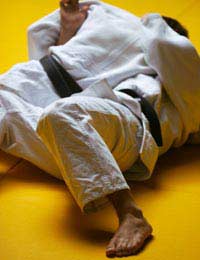 Judo, a traditional Japanese wrestling sport, means 'the gentle way', yet it is the only Olympic sport that allows choking an opponent in a submission hold or breaking an arm. It is derived in part from jujitsu - meaning 'gentle technique' - the hand-to-hand combat technique of ancient samurai warriors.
Judo made its Olympic debut at the 1964 Games in Tokyo and the host nation went on to win three of the four weight classes contested. It was excluded in 1968 but returned in 1972, and women's judo was added in 1992.
There are now 14 Olympic judo events, with both men and women contesting seven bodyweight classes: men's under 60 kilograms, 60-66kg, 66-73kg, 73-81kg, 81-90kg, 90-100kg and over 100kg, and women's under 48kg, 48-52kg, 52-57kg, 57-63kg, 63-70kg, 70-78kg and over 78kg.
Judo's Four Medals
Men's contests last five minutes, women's four, and throwing opponents to the floor wins most matches. Judoka are divided into two pools by a draw and compete in a knockout tournament to decide gold and silver medal winners. Two bronze medals are awarded, with all the judoka who lost to the eventual semi-finalists given a second chance. The two best lucky losers challenge the beaten semi-finalists and the winners of those matches receive bronze medals.
The word judo first appears in the 1st century chronicles of Chinese emperor Kuang Wu. Ju means 'gentleness' or 'pliancy', and applies to the emphasis judo places on yielding to an opponent's strength to overcome them, rather than attempting to defeat them by force. Do means 'the way'.
Son of Jujitsu
The sport is derived from the older jujitsu. Judo schools began to develop techniques differing from jujitsu in the 19th century, and Dr Jigoro Kano combined these techniques and clarified the rules. Kano, a long-time member of the International Olympic Committee, stressed judo's philosophical principles and removed many of the dangerous parts of jujitsu. He developed Kodokan judo and opened his first school, or dojo, in 1882.
Judo spread slowly to other countries and the first international match, between the Japanese Budokwai School and a German national team, did not take place until 1926.
Taekwondo, which means 'the way of kicking and striking', is a Korean martial art. Both hands and feet are used to overcome an opponent, but the sport's trademark is its combination of kick movements.
Sydney Debut
It was a demonstration sport at the 1988 and 1992 Olympics, and became a full medal sport at the 2000 Games in Sydney. There are eight Olympic taekwondo events, with both men and women contesting four bodyweight classes: men's under 58kg, 58-68kg, 68-80 kg and over 80kg, and women's under 49kg, 49-57kg, 57-67kg and over 67kg.
A knockout tournament decides the gold and silver medals, and all competitors defeated by the two finalists compete for the bronze. To score contests, a point is awarded for each legitimate blow and a point is deducted for each penalty.
Korea has a variety of martial arts, but in 1955 a group of Korean martial arts leaders chose taekwondo as the definitive one in an attempt to promote the sport internationally. The Korean government recognised the World Taekwondo Federation (WTF) as the legitimate governing body of the sport in 1973 and the first world championships were held in that year.
You might also like...