Format of Olympic Volleyball and Handball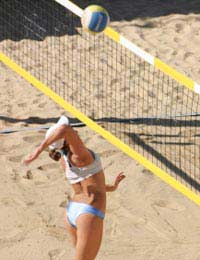 The phenomenon that is beach volleyball opened the sport up to a completely new market when it made its debut at the Olympic Games at Atlanta in 1996. The sand, sun and skimpy outfits made it an instant hit with spectators and television audiences alike and in many respects beach volleyball put the longer established, traditional game in the shade.
Playing outdoors presents players with fresh challenges. The sun and wind are variables and outstanding ball skills and court speed are required for a team of two to cover a court of sand. Matches are the best of three sets - the first two played to 21 points and the tie-breaker set to 15 - and a pair must win a set by two clear points. There are men's and women's beach volleyball tournaments at the Games, with 24 pairs in each. Partners have to be well matched or opponents can win easy points by targeting the weaker player.
Nude Volleyball
Beach volleyball first appeared in the early 1920s in Santa Monica, California, and by 1927 it was the chief recreational activity at a French nudist colony. It reached Czechoslovakia, Latvia and Bulgaria by the 1930s and the first official two-man tournament was held in 1947. In the 1950s, the first beach volleyball circuit was launched, involving hundreds of players and five California beaches.
Traditional volleyball has a longer history. It was invented in 1895 by William Morgan, a student at Springfield College and a director of the YMCA at Holyoke, Massachusetts. He called the game was mintonette, but it was quickly changed to volleyball. Japan was playing the game by 1896, followed closely by other Asian countries, and a specially designed ball was introduced in 1900.
Six-a-side play became standard in 1918, and in 1920 rules governing three hits per side and back-row attacks were established. At the same time, the set and spike originated in the Philippines. The Fédération Internationale de Volleyball (FIVB) was formed in 1946 and volleyball made its Olympic debut in Tokyo in 1964.
Libero's Role
While power and height have become vital components of international teams, FIVB introduced a new specialist role - the libero - prior to the Sydney Games that gave a vital role to shorter players. This player cannot serve, spike the ball over the net or rotate into the front-line positions, but plays a vital role in serve reception and backcourt defence.
Matches are the best of five sets, with the first four sets played to 25 points and the tiebreaker fifth to 15. A team must win a set by two clear points. There are men's and women's tournaments at the Games, with 12 teams contesting each.
Handball has certain similarities to both football and basketball. It's a fast-paced team game, with seven players in a side, and, like football, the aim is to work together to score goals and prevent the opposition scoring. Games consist of two 30-minute halves with a 10-minute half-time break, and high-scoring games with more than 40 goals are common. Like basketball, players feint, body swerve, and jump in the air to pass, control the ball and shoot, but, unlike basketball, physical contact is allowed in handball.
Berlin Debut
Men's handball made its Olympic debut as an outdoor sport played on turf football fields at the 1936 Games in Berlin. It was not until the Games returned to Germany, in 1972 at Munich, that handball appeared in its present indoor format. Women's handball was introduced four years later in Montreal.
The International Amateur Handball Federation (IAHF) was formed in 1928 and 10 years later Germany hosted the first Field Handball World Championship. The International Handball Federation was founded in 1946 and by then seven-a-side indoor handball was just as popular as 11-a-side field handball. Between 1938 and 1966 separate world championships were held for both forms of handball.
You might also like...