Disciplines of Olympic Fencing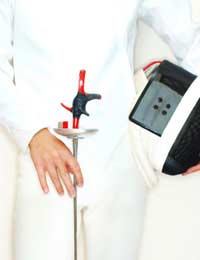 Fencing is one of the few sports to have been contested at every Olympic Games and was the first to allow professionals to compete for medals. Baron Pierre de Coubertin, the founder of the modern Olympic Games and second president of the International Olympic Committee, arranged 'masters' events for professional instructors at the 1896 and 1900 Games.
Originally a form of combat, fencing is depicted in Egyptian carvings that date from around 1190BC in the temple of Medinet-Habu near Luxor. Other ancient civilisations - including Babylonia, China, Greece, Japan and Persia - practised swordplay as training for combat.
Both Germany and Italy lay claim to the origins of fencing as a sport. German fencing masters organised the first guilds in the 15th century, and in 1570 Frenchman Henri Saint-Didier gave names to fencing's major movements. Sword fights and duels, often bloody and occasionally fatal, were common from the 16th to the 18th century and a variety of weapons were used, including backswords, quarterstaffs and singlesticks.
Injury Risk Foiled
Fencing grew in popularity as a sport in the 17th century when a light practice weapon was developed with a flattened or 'foiled' tip that was padded to reduce the risk of injury. The weapon was soon known as the foil. Rules were introduced to limit the target to certain areas of the body, and a wire-mesh mask was worn to protect the face.
Three weapons - foil, épée and sabre - are used at the Olympics. The foil is a light and flexible thrusting weapon, and to score a fencer must hit their opponent's torso with the point of the weapon. The épée is a heavy thrusting weapon and a hit anywhere on the opponent's body will score. The sabre is a light cutting and thrusting weapon and a hit anywhere above the waist of an opponent, excluding the back of the head and the hands, will score.
Double hits – that is when both fencer score almost simultaneously – are allowed in épée and both fencers are awarded a point. But in foil and sabre, 'right of way' or 'priority' rules come into play, and only the fencer on the offensive, as deemed by the referee, will score.
On the Piste
Bouts are held on a 14x1.5-metre piste, or playing area. Fencers are connected to an electronic scoring system that indicates if a hit has occurred. Rivals stand opposite one another and lunge, feint, parry and riposte until one scores the required number of hits.
Women's foil events were introduced to the Olympic in 1924, with épée events added in 1996 at Atlanta and sabre events eight years later in Athens. Ten events were contested in Beijing – men's individual and team épée, individual and team sabre, and individual foil, and women's individual and team foil, individual and team sabre, and individual épée. The men's team foil, which featured in 21 Games dating back to 1904, was dropped from the Olympic programme for Beijing.
Each event has a direct-elimination format. Three fencers make up a team, and each one duels each member of the opposing team.
You might also like...