Greatest British Olympic Rowers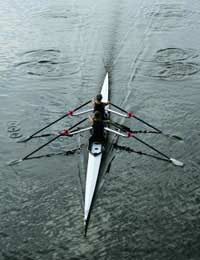 Steve Redgrave is Britain's ultimate Olympian. He won a gold medal at each of the five Olympic Games from 1984 to 2000 and achieved the feat in the particularly torturous sport of rowing, becoming the most successful oarsman of any nationality and the most decorated British Olympian in any discipline.
The incredible journey began in Los Angeles where a 22-year-old Redgrave, Martin Cross, Richard Budgett, Andrew Holmes and cox Adrian Ellison won gold for Britain in the coxed four in six minutes 18.64 seconds - 1.64secs clear of USA.
Four years later, having teamed up with Holmes, Redgrave set himself the near impossible task of winning two events at the Seoul Games - the coxless and coxed pairs. They won the coxless pair in 6:36.84 - 1.22secs ahead of the Romanians - but had to settle for bronze in the coxed pair.
Perfect Partners
Holmes and Redgrave did not get on and, although sentiment was never allowed to divert their focus from the objective, it was not an ideal partnership. However, when 6ft 4in powerhouse Redgrave, the dyslexic son of a builder, teamed up with Matthew Pinsent, a formidable oarsman in his own right, it created a near-perfect partnership.
Redgrave and Pinsent, virtually invincible at their peak, won coxless pair gold at the 1992 and 1996 Olympics. In Barcelona they were a massive 4.96secs clear of nearest rivals Germany in 6:27.72, and in Atlanta they edged out the Australians by 0.93secs in 6:20.09.
And that was to be the end of a glorious Olympic career. Victory in the Atlanta final stretched their unbeaten run to 59 consecutive races, and Redgrave announced to the world that he would never go near a boat again. "Anyone who sees me in a boat has my permission to shoot me," he said. Four months later he made it known that he was not retiring after all.
Fantastic Four
At the Sydney Games in 2000, Redgrave and Pinsent were joined by James Cracknell and Tim Foster in the coxless four. The onset of diabetes hampered Redgrave's preparations for Sydney, and there were signs that the 38-year-old's powers were failing. At Lucerne, in the last international regatta before the Games, the British four were beaten in their semi-final and limped home fourth in the final.
Redgrave and Pinsent then surrendered their 61-race winning streak as a pair, losing to Cracknell and Foster in the final trials for Olympic selection. Pinsent had long since established himself as the most formidable oarsman in Britain, and so the conclusion was that Redgrave was struggling to cope with the ever-increasing standard.
Fifth Gold
Yet Redgrave had one astounding performance left and a British television audience of 7.5million watched after midnight as the coxless four held off a late challenge by the Italians to win by 0.38secs in 5:56.24. Redgrave had his fifth Olympic gold medal to add to his nine world championship titles and three Commonwealth Games gold medals.
Pinsent had three Olympic gold medals of his own now and, as he did not celebrate his 30th birthday until after the Sydney Games, was young enough to carry on. He did, and won a fourth gold - without Redgrave - in Athens. Alongside Cracknell, Steve Williams, Ed Coode, he retained the coxless four title for Britain, holding off the Canadians by just eight hundredths of a second to win in 6:06.98.
You might also like...
it was rubish and it could have been better if you had female rowers