Greatest British Olympics Female All-Rounders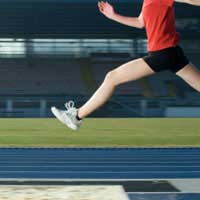 The accepted wisdom at the Munich Olympics in 1972 was that it was going to take something very special to deny home favourite Heidi Rosendahl a pentathlon gold. It did, in the shape of Great Britain's Mary Peters.
Rosendahl, aided by the backing of a partisan Munich crowd, had already won gold in the long jump and before the Games ended would add a second gold in the 4x100m relay. Peters had won pentathlon gold at the Commonwealth Games in Edinburgh two years earlier, but had twice missed out on Olympic medals - she was fourth in Tokyo and ninth in Mexico City. At the age of 33, this was to be her Olympic swansong and many believed she had missed her chance already.
Peters made a blistering start, with a personal best of 13.29 seconds in the 100 metres hurdles. The next event, the shot putt, was one of her strongest. Peters had won silver in the shot at the 1966 Commonwealth Games in Kingston, Jamaica and gold four years later in Edinburgh. She was close to her best in Munich, with 16.20m and led after the first day of competition following a personal best of 1.82m in the high jump.
World Record
Rosendahl was not finished, however. The West German leapt 6.83m in the long jump - just one centimetre short of her own world record - to close the gap on Peters, who jumped 5.98m. In the final event, the 200m, Rosendahl blasted from her blocks to a personal best of 22.96secs. She crossed the line first to set a new pentathlon world record - but the record lasted only 1.12secs. Peters finished in a personal best 24.08secs to edge out Rosendahl by 10 points and take the world record with 4,801 points.
It was the only track and field gold medal won by Great Britain at the Munich Games, and Peters went on to retain her Commonwealth Games pentathlon title for Northern Ireland two years later in Christchurch, New Zealand. Although born in Lancashire, Peters moved to Northern Ireland aged 11 and was happy to compete as an Ulsterwoman. She dedicated her 1974 Commonwealth gold to her coach, Buster McShane, who was killed in a car crash six months after Munich.
With seven events crammed into two days of gruelling competition, the heptathlon can take its toll on athletes. So it proved at the Sydney Games in 2000, when Syrian Ghada Shouaa, the defending champion, and France's Eunice Barber, the favourite, were forced to withdraw. Injury almost robbed Britain's Denise Lewis of her golden moment too.
Favourite Out
Lewis had won bronze at the Atlanta Games in 1996 and her chances improved in Sydney when Shouaa withdrew only seconds into the first event, the 100m hurdles. Barber lasted until the fifth event, but after only one attempt in the long jump finally succumbed to a thigh injury.
Birchfield Harrier Lewis, 28, struggled too. She competed with strapping around her ankle to protect an Achilles injury and was below her best, but 13.23secs for the 100m hurdles, a 1.75m high jump, 15.55m shot, 24.34secs in the 200m, a 6.48m long jump, 50.19m javelin and two minutes 16.83secs in the 800m proved to be enough.
She finished with 6,584 points, 53 more than Russian Yelena Prokhorova. It gave Lewis, winner of the 1998 European Championships in Budapest and the 1994 (Victoria) and 1998 (Kuala Lumpur) Commonwealth Games, her first global title after silver medals at the 1997 (Athens) and 1999 (Seville) World Championships.
You might also like...