Greatest British Olympic Sailors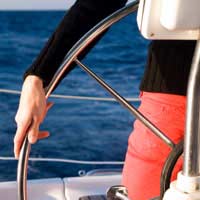 Sailor Shirley Robertson was the first British woman to win gold medals at consecutive Olympic Games, and the first Scottish woman to win an Olympic gold in an individual event.
Victory at the 2000 Games in Sydney, where Robertson sailed her single-handed dinghy to gold in the Europe class, was at the third time of asking. She made her Olympic debut at Barcelona in 1992, finishing ninth, and was in medal contention until the last race of the Atlanta Games in 1996, but American Courtenay Becker-Dey edged her out of the medals by two points.
Robertson won silver medals at the 1998 and 2000 World Championships, and bronze in 1999, to establish herself as a strong medal contender for the 2000 Olympics. She led from the start in Sydney, but was pushed all the way and a lowly 16th place in the penultimate race allowed Holland's Margriet Matthijsse to cut her lead to five points.
Final Push
The silver medal was secure going into the final race, but Robertson - bidding to become the first British woman to win a sailing title since 1920 - needed a top-four finish to guarantee gold. Matthijsse won the final race to pile on the pressure, but Robertson kept her nerve and was third.
Looking for a fresh challenge ahead of the Athens Games in 2004, Robertson switched to the Yngling, a cross between a planing dinghy and a keelboat. She and crew Sarah Webb and Sarah Ayton were only 14th in the 2001 World Championships and dropped to 16th the following year.
But seventh place in the 2003 World Championships was an indication of the significant progress made and Robertson, Webb and Ayton were so dominant in Athens that the gold medal was secured with one race remaining. Ukraine took silver and Denmark bronze as Robertson became the second female sailor after Spaniard Theresa Zabell to win two Olympics gold medals.
Missing Beijing
Robertson's bid for a third gold medal at the Beijing Games was thwarted when the Royal Yachting Association (RYA) selected Ayton, Webb and Pippa Wilson to represent Britain in the Yngling class ahead of Robertson and her new crew Annie Lush and Lucy Macgregor.
Commenting on the decision, Robertson said: "I am very sad and disappointed. Lots of people will view this as my retirement, but sailing is one of the few sports that rewards age and experience. Who knows where my future lies?"
Robertson, born in Dundee on 15th July 1968, was brought up in Menstrie, near Stirling. Her father, Ian, built her first dinghy, a Mirror Miracle, from a kit and Robertson set sail at the age of seven on Loch Ard in the Trossachs. The former head girl at Alva Academy was in her teens when she sailed at her first regatta at Linlithgow.
She married Jamie Boag in June 2001, and, having been appointed MBE in 2000, was appointed OBE in 2005 in recognition of her second Olympic gold. Robertson has presented CNN's monthly sailing television programme 'Main Sail' and was a commentator for the BBC at the Beijing Olympics. She supported London's successful bid to host the Olympics in 2012 is on the London Organising Committee of the Olympic Games (LOCOG) Sport Advisory Group.
You might also like...