Greatest British Jumpers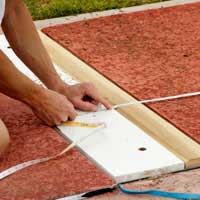 It was a vintage year for British long jumpers, 1964. Not only did Mary Rand overcome the disappointment of four years earlier in Rome to become the first British woman to win an Olympic track and field title, but Welshman Lynn Davies also struck gold in Tokyo, upsetting the favourites to complete an unlikely British double.
Rand was the first golden girl of British athletics. At 16, Mary Bignal, as she was then, was offered an athletics scholarship by Millfield College, one of England's elite public schools, and aged 20 she was expected to become the first British woman to win an Olympic athletics gold.
She entered the Rome Games unbeaten in long jump competition for two years. Bignal was the leading qualifier, with 6.32 metres, but in the final could not get her run-up right and fouled her first two jumps. With only 5.99m on her third and final jump, Bignal finished ninth. Had her qualifying leap counted, it would have earned the silver medal. She missed a medal in the 80m hurdles too, finishing fourth.
Olympic Record
The following year, after a whirlwind romance, she married oarsman Sid Rand, and in 1964 arrived in Tokyo desperate to make amends for the Rome debacle. On her first attempt in the long jump, Rand shattered the Olympic record by 15 centimetres with a leap of 6.52m and once again entered the final as the leading qualifier.
This time Rand, from the cathedral city of Wells in Somerset, was not to be denied. She improved her Olympic record with a world-class series of jumps in the first four rounds - 6.59m, 6.56m, 6.57m and 6.63m. Poland's greatest ever athlete, Irena Kirszenstein, later Irena Szewinska, pushed Rand with a leap of 6.57m, but the Briton saved her best for the fifth round. A jump of 6.76m was a new world record, 6cm further than Soviet Tatyana Shchelkanova's previous mark.
Rand completed her medal collection with silver in the pentathlon and bronze in the 4x100m relay. Her marriage to Sid ended in 1967. She was married to American decathlete Bill Toomey for 22 years and later married John Reese.
Welsh Outsider
Less was expected of Davies, the son of a coal miner brought up in the Welsh mining village of Nant-y-moel. American Ralph Boston, the reigning Olympic champion, had broken the world record a month before the Games with 8.34m, adding 3cm to the previous mark of Soviet Igor Ter-Ovanesyan.
Davies almost failed to qualify for the final, but made it with his third and final jump. The conditions for the final - a driving wind and pouring rain - suited no-one, but in the fifth round the wind dropped and Davies took advantage. He hit the board smack on and sailed out into the lead with 8.07m. Boston got within 4cm with his final leap and Ter-Ovanesyan jumped 7.99m, but Davies had the gold.
In 1968, the year Bob Beamon rewrote the record books with an extraordinary leap of 8.90m at the Mexico City Olympics, Davies jumped 8.23m in Berne, Switzerland. It stood as British record for 34 years until Chris Tomlinson jumped 8.27m in Tallahassee, Florida.
Inauspicious Start
Triple jumper Jonathan Edwards made a fairly inauspicious start to his Olympic career, failing to qualify for the final in both the Seoul and Barcelona Games. Yet he entered the 1996 Atlanta Games as a firm favourite after a remarkable summer in 1995.
First, in July, Edwards beat the 10-year-old world record of American Willie Banks, going 1cm further with 17.98m in Salamanca, Spain. Then, the following month at the World Championships in Gothenburg, Edwards won gold and destroyed his own world record twice in the same competition, jumping 18.16m and then, with his very next jump, 18.29m.
Edwards could not get close to those distances in Atlanta and was beaten by American Kenny Harrison, who set an Olympic record of 18.09m. Another silver medal followed for Edwards at the 1997 World Championships in Athens and then a bronze in the 1999 World Championships in Seville.
But he got it right at the Sydney Olympics in 2000, when 17.71m was enough to beat Cuban Yoel García (17.47m). Edwards, whose religious convictions prevented him from competing in the British trials for the 1988 Olympics because it was on the Sabbath, regained the world title in Edmonton with 17.92m and his world record of 18.29m still stands.
You might also like...