Greatest British Olympic Hurdlers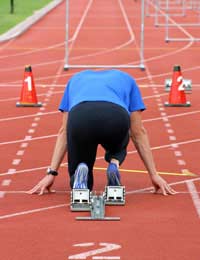 Few Olympic gold medals have been won in such devastating style as the one David Hemery earned for Great Britain in the 400metre hurdles at the Mexico City Games in 1968. Not only did Hemery win the race, he shattered the world record by 0.68seconds and obliterated a world class field to finish seven metres clear in 48.12secs.
American Geoff Vanderstock had run inside the world record at a training camp in Lake Tahoe and predicted that he and countryman Ron Whitney would outclass the six Europeans in the Mexico City final. Hemery pinned Vanderstock's boasts on his bedroom wall in the Olympic village.
The 24-year-old Hemery, in lane six, ran a blistering 22.3secs for the first 200m and flew past Whitney, on his outside, in the back straight and fellow Briton John Sherwood, in lane eight, at 240m. Vanderstock could manage only fourth and Whitney sixth as Germany's Gerhard Hennige took silver and Sherwood bronze.
Hemery's Highlight
As he reflected on his achievement in later life, Hemery said: "I shan't say it was indescribable but certainly was one of the highlights of anyone's life to be able to win a gold and break the world record at the same time."
Hemery, who had won a sprint hurdles gold at the 1966 Commonwealth Games in Kingston, Jamaica, returned to the shorter event after the Mexico Olympics and won silver at the 1969 European Championships before retaining his Commonwealth title in Edinburgh the following year.
But he returned to the 400m hurdles for the Munich Olympics in 1972 with his world record still intact. Hemery led at halfway, but 90m out was caught by John Akii-Bua and the Ugandan went on to win his nation's first Olympic title in a world record 47.82secs. American Ralph Mann caught Hemery on the line and the Brit missed out on silver by one-hundredth of a second and had to settle for bronze. He added a silver medal in the 4x100m relay.
Gold for Gunnell
At the Barcelona Olympics in 1992, a 26-year-old farmer's daughter became only the fifth British woman to win a track and field gold medal, following in the footsteps of Mary Rand, Ann Packer, Mary Peters and Tessa Sanderson.
A year earlier, Sally Gunnell had lined up in the final of the 400m hurdles at the World Championships in Tokyo. She stuttered into the final hurdle having messed up her stride pattern - taking 19 strides instead of 17 - and finished second to Soviet Tatyana Ledovskaya.
There was no such error in Barcelona. Gunnell was in lane three and had Sandra Farmer-Patrick of the USA on outside her. The fast-starting American was ahead at halfway, but Gunnell caught her on the final bend and stretched away down the home straight to win in 53.23secs, with world champion Ledovskaya only fourth.
World Record
Gunnell, who added an Olympic bronze medal in the 4x100m relay in Barcelona, got the better of Farmer-Patrick again at the World Championships in Stuttgart, Germany the following year, winning gold in a world record 52.74secs.
The following year, Gunnell underlined her dominance with a golden double. First she won the European Championships in Helsinki and then, in Victoria, Canada, she retained the Commonwealth Games title she had won four years earlier in Auckland, New Zealand.
ABOUT OLYMPICS IS FOR SALE.
This website is for sale [more info].
You might also like...