Greatest British Olympic Male Middle Distance Runners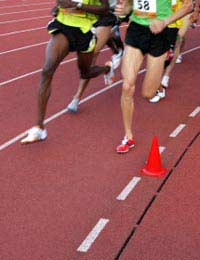 The men's middle distance races at the Moscow Games in 1980 were among the most eagerly anticipated in Olympic history. Two British athletes, Sebastian Coe and Steve Ovett, were at the height of their powers.
The previous summer, Coe had set the athletics world alight by claiming a remarkable hat-trick of world records. First, on 5th July 1979 at Oslo's Bislett Games, he ran one minute 42.33 seconds to slice 1.11secs off the 800 metres record of Cuban Alberto Juantorena. He returned to the stadium for the Golden Mile 12 days later and broke Kiwi John Walker's record by 0.45secs with 3:48.95.
On the 15th August, only 41 days after the record-breaking blitz began, Coe ran 3:32.03 in the 1,500m at Zurich's Letzigrund Stadium to shave 0.13secs off the mark set by Tanzania's Filbert Bayi at the 1974 Commonwealth Games. At the age of 22, Coe had become the first man to hold all three world records.
Ovett Upstages Coe
He added a fourth world record in Oslo on 1st July 1980, running 2:13.40 in the rarely-contested 1,000m, yet he was upstaged when Ovett stole his mile record in 3:48.8 at the very same meet. Ovett was back in Oslo before the Moscow Games to claim a share of Coe's 1,500m world record. Electronic timing clocked Ovett at 3:32.09 - six-hundredths of a second slower than Coe - but both times were officially rounded up to 3:32.1. Ovett could have gone faster still had it not been for his trademark, nonchalant wave to the crowd on the home straight.
Neither had wanted to hand any psychological advantage to the other before the Olympics, so, although they traded world records, the pair had not met on the track since the 800m at the 1978 European Championships in Prague, where Ovett took silver and Coe bronze behind East Germany's Olaf Beyer. Ovett did win the 1,500m gold in Prague and set a world record of 8:13.51 for two miles the same year.
Renowned Double-Kick
Coe possessed a renowned double-kick - the ability inject pace into a race and then demoralise opponents further by accelerating again. Commonsense suggested it would win him the 800m in Moscow, while Ovett, who had a blistering finishing kick of his own and was unbeaten in 43 races over 1,500m and a mile, would take 1,500m gold. But that is not what transpired.
Coe ran a tactically inept race in the final of the 800m and took silver behind Ovett, a comfortable winner in 1:45.40. When they shook hands on the medal rostrum, Coe - ousted in his favourite event by his greatest rival - would not look Ovett in the eye. He said later: "I chose an Olympic final to run the worst 800m of my life."
In the 1,500m final, Coe got his revenge. He hit the front coming round the final bend and won in 3:38.40 with Ovett - beaten for the first time in three years over the distance - third behind East Germany's Jürgen Straub.
Famous Rivalry
One of the most famous rivalries in sport did not end there. Within a month of the Olympics, on 27th August 1980, Ovett claimed the 1,500m world record outright (3:31.36) in Koblenz, Germany.
Coe lowered his own 800m world record on 10th June 1981 in Florence. His time of 1:41.73 stood for 16 years and was the catalyst for a remarkable 10 days later that summer. Coe regained the mile world record (3:48.53) in Zurich on 18th August, Ovett took it back (3:48.40) briefly on 26th August in Koblenz and Coe shattered it (3:47.33) on 28th August in Brussels.
Coe had to overcome a plague of problems prior to the Los Angeles Olympics in 1984, the worst being struck down by toxoplasmosis, a relatively rare blood disease. He lost to Peter Elliott in the 1,500m British Olympic trial at Crystal Palace, but was still selected, somewhat controversially, ahead of Elliott.
Respiratory Problems
Yet it was Ovett who suffered in Los Angeles. He had respiratory problems and barely managed to qualify for the 800m final, lunging for the line in his semi-final to snatch the last qualifying position before collapsing, exhausted. Team doctors advised Ovett against running in the final. He did anyway, but the defending champion was last as Coe, silver medallist four years earlier, was second again, this time to Brazil's Joaquim Cruz.
Ovett spent two nights in hospital after the 800m final, but went against the advice of friends and doctors again to run in the 1,500m. He dropped out of the race suffering with chest pains, as Coe (3:32.53) became the first man to successfully defend the title, with fellow Brit Steve Cram second.
You might also like...