The Olympic Games and Politics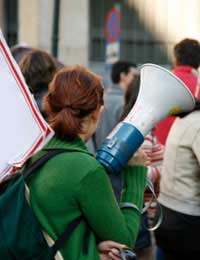 Rule 51 of the Olympic charter states that "no kind of demonstration or political, religious or racial propaganda is permitted in any Olympic sites, venues or other areas", but it's a forlorn hope. For decades the Games have been used to make political gain.
Adolf Hitler, Führer of the Third Reich, wanted the 1936 Games in Berlin to prove his theory of Aryan racial superiority, but was thwarted by African-American Jesse Owens, who was the star performer and won four gold medals. Germany and Japan were not invited to the 1948 London Games because of their roles in World War II and, although invited, the Soviets did not show up. The USSR competed for the first time at the 1952 Helsinki Games, but by then Cold War tensions led to Soviet athletes being housed in a separate village.
Boycotts hit the 1956 Melbourne Games. Egypt, Iraq and Lebanon pulled out in protest at the Suez Crisis, while Spain, Switzerland and Holland withdrew over the Soviet invasion of Hungary. China boycotted in protest at the presence of Taiwan.
Racial Protest
South Africa was excluded from the 1964 Games in Tokyo due to its racist apartheid regime and did not return until 1992 in Barcelona. Protests against racial segregation in the USA followed at the 1968 Mexico Games, where black American athletes Tommie Smith and John Carlos - gold and bronze medal winners in the 200 metres - raised black-gloved fists and hung their heads while their national anthem played.
Palestinian terrorists stormed the Olympic village at the 1972 Games in Munich, killed two Israeli athletes, took nine others hostage and demanded the release of prisoners from Israel. The horror culminated in a shootout and all nine Israeli hostages, five of the eight terrorists and a German policeman were killed. The Games resumed after a 34-hour suspension.
The 1976 Montreal Games were boycotted by 27 African nations in protest at the International Olympic Committee's failure to exclude New Zealand, whose rugby union team had played in racially segregated South Africa. The Canadian government granted China's request to revoke the visas of Taiwanese athletes - already in Montreal - and, although the IOC protested, the Taiwanese left. China then stayed at home anyway, annoyed that the IOC had admitted Taiwan.
Major boycotts
Most of the capitalist world - led by the USA, West Germany and Japan - boycotted the 1980 Moscow Games following the Soviet invasion of Afghanistan. Four years later, the USSR retaliated and led a boycott of the 1984 Los Angeles Games by 14 socialist nations, claiming the Olympics were being used to generate commercial profits.
North Korea boycotted the 1988 Seoul Games after its request to act as a co-host was refused, and Cuba, Ethiopia and Nicaragua withdrew in sympathy. At the 1996 Games in Atlanta a pipe bomb exploded in Centennial Olympic Park during a rock concert. Two people were killed and 111 injured.
China's human rights record was called into question prior to the 2008 Beijing Games. There was talk of boycotts after what began as peaceful protest marches led by monks in Tibet's largest city, Lhasa, escalated into full-scale rioting. The anti-Chinese demonstrations marked the 49th anniversary of a failed Tibetan uprising against Chinese rule. Tibet's government-in-exile, based in India, claimed Chinese security forces cracked down on unrest and about 140 people were killed, but Chinese authorities claimed 19 people were killed by rioters.
ABOUT OLYMPICS IS FOR SALE.
This website is for sale [more info].
You might also like...