Greatest Olympic Controversies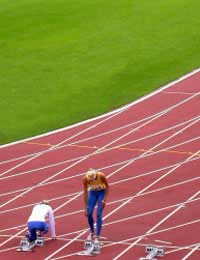 Controversy had surrounded South African-born Zola Budd long before the final of the women's 3,000 metres at the 1984 Olympics in Los Angeles. South Africa was not allowed to compete at the Games because of apartheid, but Budd, a waif-like distance runner who competed barefooted, had a British-born grandfather.
The Bloemfontein-born 18-year-old also had the backing of the Daily Mail newspaper, which allegedly paid £100,000 for her story, and was brought to England and fast-tracked into becoming a British citizen in time to compete in Los Angeles.
There was fury among anti-apartheid campaigners at the decision to grant Budd citizenship, but that paled into insignificance compared to the uproar that followed the 3,000m final.
Golden Girl
Mary Decker, the golden girl of American athletics, had wanted to run in both the 1,500m and 3,000m in Los Angeles, but the events overlapped so she pinned all her hopes on the longer race.
The race was beyond the halfway point when Budd and Decker collided twice in quick succession. Budd, barefoot as usual, was in front and Decker's spikes dug deep into the British runner's right heel. Decker tripped, was pitched forward and crashed to the floor on the infield grass, clutching her right thigh. Unable to get up, the American was carried from the track in tears, her race and her Olympics over.
Budd, her heel gouged and ears ringing with boos from the American crowd, ran on but was clearly affected by the incident and could finish only seventh as Romanian Maricica Puica took gold.
Apology Rejected
Afterwards, a distraught Decker refused to accept Budd's apology and said: "Zola tried to cut in without being far enough ahead. There was no question but that she was in the wrong."
Initially, track officials seemed to agree with Decker and Budd was disqualified for obstruction, but just one hour later, once officials had viewed films of the race, Budd was reinstated.
The following summer, Budd and Decker met in a big-money showdown at Crystal Palace and Decker won easily, with Budd fourth. Budd continued to compete in Britain for four years after the 1984 Games and ran a world record 14 minutes 48.07 seconds for 5,000m in 1985, but could never shake off the political controversy nor overcome criticism over the clash with Decker. She returned to South Africa in 1988.
Magic Controversy
Earvin 'Magic' Johnson was at the centre of a controversy that raged before the 1992 Games in Barcelona. Australia's basketball team doctor, Brian Sando, questioned whether Australia should play in the Olympics against Johnson because the USA legend is HIV positive.
The remarks provoked outrage in the United States and the Australian government acted quickly to quell the war of words. Gareth Evans, the Australian minister for Foreign Affairs and Trade, dismissed talk of a boycott and said: "A boycott is not something that the Australian Government should remotely consider in relation to any individual like Magic Johnson. The story that Australia has been considering a boycott is completely false."
ABOUT OLYMPICS IS FOR SALE.
This website is for sale [more info].
You might also like...