Great Olympic Middle Distance Runners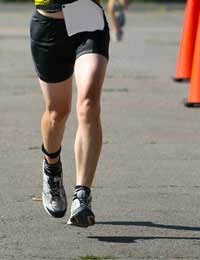 Kipchoge 'Kip' Keino recorded the most decisive victory over 1,500 metres ever seen at the Olympics when he finished 20m clear of favourite and world record holder Jim Ryun at the 1968 Games in Mexico City. The achievement was remarkable in itself, yet the circumstances surrounding the triumph were nothing short of astonishing.
For a start, Keino had been suffering violent stomach pains caused by a gall bladder infection. During his first event in Mexico City, the 10,000m, he was running with the leaders until, with two laps to go, he doubled up with pain and collapsed onto the infield. The Kenyan jumped back up and finished the race, but was disqualified for leaving the track.
Doctors advised Keino, an uncoached Nandi tribesman, to withdraw from the Games, but the 28-year-old refused and four days later won a silver medal in the 5,000m. Tunisian Mohamed Gammoudi took gold, edging out Keino by 0.15 seconds in a thrilling sprint finish.
Caught in Traffic
Then, on the day of the 1,500m, Keino got caught in a traffic jam and had to run the final mile to the stadium. It was a less than ideal preparation, but the 1,500m represented Keino's last chance of Olympic gold in Mexico and he was wary of Ryun's finishing kick, the American having set a world record of three minutes 33.1secs the previous year.
In an effort to negate Ryun's strong finish, Keino set off at a murderous place as the rest of the field waited for him to run out of steam. He did not and won in 3:34.91, a remarkable time at altitude and 2.98secs clear of Ryun. It was an Olympic record that stood until 1984, when Sebastian Coe ran 3:32.53 in Los Angeles. On the same day that Keino won his gold medal, his wife Phyllis gave birth to their third daughter back in Kenya. She was named Milka Olympia in his honour.
Four years later in Munich, Keino failed in his bid to defend the 1,500m title. Finn Pekka Vasala won in 3:36.33, with Keino 0.48secs behind in second. But by then the Kenyan had already clinched a second Olympic gold. It came in the steeplechase, an event Keino had little experience of. His hurdling technique was mediocre at best, but his speed between the barriers was sufficient to hold off the challenge of team-mate Ben Jipcho and win in 8:23.64.
World Records
Keino had made his Olympic debut at the 1964 Games in Tokyo, where he was fifth in the 5,000m. In 1965, he sliced 6.4secs off the 3,000m world record in his first race at the distance in Helsingborg, Sweden. His time of 7:39.6 stood for more than seven years. Later the same year he broke the 5,000m world record in Auckland, New Zealand with 13:24.2.
Both Keino's parents died when he was young, and he was brought up by his aunt. He was a physical training instructor with the Kenyan police before his athletics career blossomed. He turned professional after the Munich Games and the following year retired from athletics with enough money to buy farmland in Eldoret, where he and his wife set up an orphanage, the Kip Keino Children's Home. In 2000, the Kip Keino School was created to cater for 300 children aged between six and 13.
You might also like...