Great Olympic Distance Runners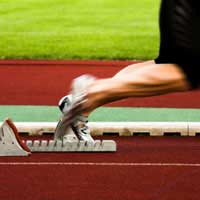 Finland produced a plethora of outstanding distance runners in the 20th century, but none as remarkable as Paavo Nurmi and Lasse Virén. Nurmi is one of only four Olympians to win nine gold medals, the others being American swimmer Mark Spitz, Soviet gymnast Larisa Latynina and American sprinter Carl Lewis.
In Antwerp in 1920, Nurmi made his Olympic debut in the 5,000 metres and took silver behind Frenchman Joseph Guillemot. Nurmi got his revenge three days later when he defeated Guillemot in the 10,000m. He added individual and team gold medals in the cross-country race.
Nurmi's most memorable achievement came on the 10th July 1924 at the Paris Olympics. Just three weeks before the Games, on 19th June in Helsinki, Nurmi had run the 1,500m and 5,000m in quick succession and set world records in both. He had improved his own 5,000m world record by more than seven seconds with 14 minutes 28.2secs - a mark that stood for eight years - and cut 2.1secs off the 1,500m record with 3:52.6.
Parisian Gold
In Paris, Nurmi won the 1,500m in 3:53.6 and just 42 minutes later lined up for the 5,000m. He held off a strong challenge by fellow Finn Ville Ritola to win in 14:31.2, at that time the second fastest time in history. As in Antwerp, Nurmi won individual and team gold in the cross country and the following day finished first in the 3,000m team race to claim a fifth Paris gold.
Finnish officials denied Nurmi the chance to defend his 10,000m title in Paris by refusing to enter him in the event. Nurmi made his point soon after the Games, on 31st August 1924, by shattering Ritola's 10,000m world record by 17 seconds in 30:06.2 - a mark that stood for almost 13 years.
At Amsterdam in 1928, Nurmi regained his Olympic 10,000m crown in an Olympic record 30:18.8, and added silver medals in the 5,000m and 3,000m steeplechase. By then, cross-country races had been dropped from the Olympic programme. In 1932, Nurmi would have started favourite in the 10,000m and marathon, but he was barred from competing by the International Olympic Committee (IOC). He had accepted more than his expenses while on tour the year before the Games and was charged with professionalism.
Sensational Debut
Lasse Virén made a sensational Olympic debut in the 10,000m at Munich in 1972. The 23-year-old policeman was in fifth place midway through the race when he stumbled and fell. It seemed his chance had gone, but Virén got up and chased down the leading group. With 600m left, Virén made his move and ran away from his rivals to win in a world record 27:38.4, a second inside the seven-year-old mark of Australian Ron Clarke. Belgium's Emiel Puttemans was second and Ethiopian Miruts Yifter third.
Virén completed the long distance track double when he added the 5,000m title in an Olympic record 13:26.42, with Tunisia's Mohamed Gammoudi second and Briton Ian Stewart third. Four years later in Montreal, Virén retained his 10,000m title with ease, finishing 30m clear of Portugal's Carlos Lopes in 27:40.38, with Briton Brendan Foster third.
The 5,000m was tougher, but Virén led at the bell and held off New Zealand's Dick Quax and German Klaus-Peter Hildenbrand to take his fourth gold medal in 13:24.76. He became the first and, as yet, only man to retain the 5,000m title.
You might also like...