Great Olympic Field Athletes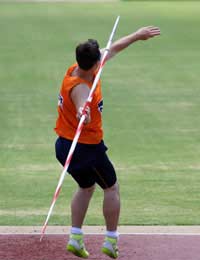 One of the most remarkable athletic achievements of the 20th century established Bob Beamon as an Olympic legend on 18th October 1968. The previous day, Beamon, favourite to win the long jump at the Mexico City Games, had struggled to qualify for the final.
The 22-year-old American had won 22 of his 23 competitions that season, but his first two qualifying attempts were fouls. With one attempt remaining, Beamon followed the advice of teammate Ralph Boston, the world record holder, and started his jump several centimetres before the takeoff board. As a result, Beamon qualified with ease.
The next day, Beamon needed only one incredible leap to secure the gold medal. With a legal tailwind of two metres per second, Beamon sailed out to 8.90m in the first round. The jump was so long that the official optical measuring device was rendered useless, the rail-mounted contraption being unable to reach Beamon's point of impact. Instead, an old-fashioned steel tape measure was used.
Record Destroyed
In the previous 33 years, the long jump world record had improved by 22 centimetres, yet in a moment Beamon had destroyed Boston's mark by an incredible 55cm. The world record stood for almost 23 years until fellow American Mike Powell jumped 8.95m. Beamon's leap is still an Olympic record 40 years on and still the second longest jump in history.
Beamon cleared 8.04m in the second round at Mexico City and then took no further part in the competition. His winning jump was 71cm better than that of East Germany's Klaus Beer, the silver medallist.
Discus thrower Al Oerter was the first track and field athlete to win the same event at four consecutive Olympics, a feat since matched by fellow American Carl Lewis in the long jump.
Gold Run
Oerter's gold run began at Melbourne in 1956 with an Olympic record throw of 56.36m. Four years later, in Rome, he broke the Olympic record twice with throws of 58.43m and 59.18m and in Tokyo the Olympic record fell twice to Oerter again as he claimed a third successive gold with 60.54m and 61.00m throws.
In Mexico City, Oerter broke the Olympic record for a sixth time with 64.78m to land a fourth gold medal. He set the world record four times and on the first occasion, on 18th May 1962 in Los Angeles, became the first man to record a legal throw of over 200 feet with 61.10m.
The most successful field athlete in Olympic history is an American called Ray Ewry, who won eight gold medals. Ewry, born on the 14th October 1873, contracted polio as a young boy and was confined to a wheelchair. It was feared he would be paralysed for life, but Ewry exercised on his own and became a superb athlete.
Jumping for Joy
All Ewry's medals were won in standing jump events, none of which were included after the 1912 Games. At the second modern Olympiad in Paris, Ewry won the standing high jump (1.65 metres), standing long jump (3.30m) and standing triple jump (10.58m). Four years later in Saint Louis he retained all three titles, with 1.50m in the standing high jump, 3.47m in the standing long jump and 10.54m in the standing triple jump.
The standing triple jump was dropped from the Olympic programme at London in 1908, but Ewry won both the standing high jump (1.57m) and standing long jump (3.33m) for a third time. He won another two gold medals at the Intercalated Games in 1906.
You might also like...