Great Olympic Swimmers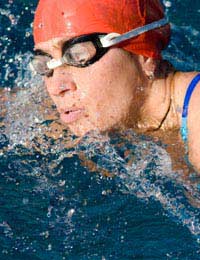 What Mark Spitz accomplished at the 1972 Olympics in Munich is unique. The American swimmer won seven gold medals, a feat that has never been matched at a single Games. The way he achieved it, with world records in each of the seven events, made it all the more remarkable.
Although the Spitz gold rush was incredible, it wasn't a huge surprise. After all, six of the seven world records he broke in Munich were already his prior to the Games, and before the 1968 Olympics in Mexico City he had brashly predicted he would win six gold medals.
Spitz failed to deliver on that occasion. He did win two gold medals, in the 4x100m and 4x200m freestyle relays, but was only third in the 100m freestyle, second in the 100m butterfly - losing to fellow American Doug Russell for the first time in 10 races - and last in the 200m butterfly final.
Records Tumble
It was all very different in Munich. Spitz began on 28th August with gold and a world record of two minutes 0.70 seconds in the 200m butterfly. Later the same day he anchored the USA 4x100m freestyle relay team to gold in a world record 3:26.42. The next day, Spitz won his third gold with another world record (1:52.78) in the 200m freestyle.
Back in the pool on 30th August, Spitz collected two more gold medals and two more world records, winning the 100m butterfly in 54.27secs and bringing the 4x200m freestyle relay team home in 7:35.78. On 3rd September, in what was purported to be his weakest event, Spitz won the 100m freestyle in a world record 51.22secs and the next day he swam the butterfly leg of the medley relay as the USA won in a world record 3:48.16.
In an amazing eight days, Spitz had won seven gold medals and set seven world records. He is one of only four athletes to win nine gold medals during his Olympic career, the others being American sprinter Carl Lewis, Finnish distance runner Paavo Nurmi and Soviet gymnast Larisa Latynina.
The Greatest
Although Spitz has an unsurpassed Olympic record, a case can be made for ranking fellow American Johnny Weissmuller ahead of him as the greatest swimmer of all time. The limited number of events available to Weissmuller during the Paris Games of 1924 and Amsterdam Games of 1928, mean his Olympic record cannot be fairly compared to that of Spitz but the longevity of his records is a testament to his greatness.
Weissmuller was the first man to swim 100m freestyle in under a minute and won the event in Paris in an Olympic record 59.0secs. That was well outside the world record of 57.4secs he had set in Miami earlier that year. He improved his Olympic record to 58.6secs as he retained his Olympic title four years later in Amsterdam, and his world record stood for more than 10 years.
Five Golds
In winning the 400m freestyle title in Paris, the 6'3" Weissmuller broke Canadian George Hodgson's Olympic record three times. He cut a massive 20.2secs off Hodgson's time to take gold in 5:04.2, yet that was nowhere near the world record of 4:57.0 he had set in New Haven the previous year. Weissmuller also won 4x200m relay gold medals at the 1924 and 1928 Games - both in world record times - to take his tally to five golds, and he won a bronze in waterpolo at Paris.
But Weissmuller is best remembered for what happened once his swimming career was over. He became the most famous screen Tarzan of all time, playing the role in 12 movies between 1932 and 1948.
You might also like...