Great Olympic Hurdlers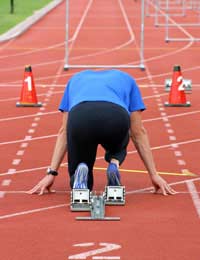 It is said there are two certainties in life - death and taxes. Between 26th August 1977 and 4th June 1987 there were three certainties in life - death, taxes and Ed Moses in the 400 metres hurdles. During that time, Moses won 122 consecutive races - including 107 finals - in 22 different countries.
It is arguably the greatest winning streak in sport. Sandwiched between defeats to West Germany's Harald Schmid and American Danny Harris, Moses was unbeaten for nine years, nine months and nine days. It should have earned him three Olympic gold medals, but the USA's decision to boycott the 1980 Moscow Games in protest at the Soviet invasion of Afghanistan robbed Moses of that opportunity.
Edwin Corley Moses, born in Dayton, Ohio, was only 20 when he made his Olympic debut at Montreal in 1976. It was his first international competition and came just four months after his first 400m hurdles, but he was not hampered by a lack of experience. He won in a world record 47.64 seconds and the margin of victory - he was eight metres clear of silver medallist Michael Shine - was the largest in the event's history.
Natural Talent
Moses, it seemed, had been built for the 400m hurdles. His freakishly long stride of almost three metres allowed him to take an unprecedented 13 steps between hurdles instead of the usual 14 and make one of the most demanding track and field events look ludicrously simple.
There is little doubt Moses would have collected a second gold medal in Moscow had it not been for the USA boycott. In 1980 he was at the height of his powers and had an air of invincibility. Between the Montreal Games and his return to the Olympic arena at Los Angeles in 1984, Moses improved his world record three times. He clocked 47.45secs in Los Angeles on 11th June 1977 and 47.13secs in Milan on 3rd July 1980.
Then, in Koblenz, Germany on 31st August 1983, Moses ran his lifetime best of 47.02secs, which stood as a world record for almost nine years and is still the second fastest time in history.
Olympic Oath
In Los Angeles, Moses was given the honour reading the Olympic oath. If it added to the pressure he was under to deliver a second gold medal, it did not show. He regained his title in 47.75secs, with Harris second in 48.13secs and Schmid third in 48.19secs.
At the age of 33, Moses made his third and final Olympic appearance. Ironically he ran his fastest Olympic final at Seoul in 1988, clocking 47.56secs, and finished third. American Andre Phillips won in an Olympic record 47.19secs, with Senegal's Amadou Dia Bâ four-hundredths of a second behind.
Moses, who still has four of the seven fastest 400m hurdles times in history, won two gold medals at the World Championships. At Helsinki in 1983 he finished 1.11secs clear of Schmid in 47.50secs and four years later in Rome he pipped Harris by two hundredths of a second to win in a championship record 47.46secs.
You might also like...