Winning Cyclist: Nicole Cooke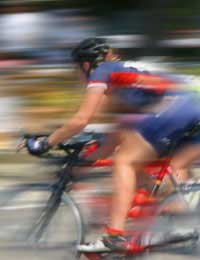 Welsh cyclist Nicole Cooke was the catalyst for a Great Britain gold rush at the 2008 Olympic Games in Beijing. The 25-year-old won a thrilling women's road race in atrocious conditions to spark the best performance by a British Olympic team for 100 years. Great Britain went on to win 19 gold medals in Beijing and finish fourth in the medal table with a haul of 47 medals, but it was Cooke who grabbed that morale-boosting first gold.
Torrential rain made the 126-kilometre course extremely treacherous in places, but Italy's Tatiana Guderzo broke clear of the peloton during the final 9km climb on the second of two laps of the 23.8km Badaling loop. She was caught by Cooke, Sweden's Emma Johansson, Austria's Christiane Soeder and Denmark's Linda Melanie Villumsen Serup going into the final 10km.
Just 500 metres from the finish, Cooke briefly lost touch with the others in the breakaway group, but the Swansea-born rider timed her finish to perfection. She stormed back to lead the final sprint from 200m out and held off Johansson to win gold, with Guderzo third. Holland's Marianne Vos, a former road race world champion and the pre-race favourite, finished in a group of riders 21 seconds off the pace, and Germany's Judith Arndt, the Olympic silver medallist at Athens in 2004, was 41st.
Rare Welsh Success
Cooke, who covered the 126km in three hours, 32 minutes and 24 seconds, became Britain's first Olympic medallist in the event and the first Welsh person to win an Olympic gold in any event for 36 years. It was the 200th gold medal won by Great Britain in the modern Olympic Games and the success banished the disappointment Cooke felt at finishing fifth in the Athens Games four years earlier.
"It's a dream come true. When I crossed the line, I really could hardly believe it," said Cooke, who paid tribute to British team-mates Emma Pooley and Sharon Laws, who finished 23rd and 35th respectively. "I owe a lot to Emma and Sharon because they did such a great job putting everybody under pressure and allowing me to ride my race," said Cooke. "The best chance we had was to ride as a team. Emma was going for her own bid for glory, but it meant that I could ride defensively and also save myself. I think it put the other teams on the back foot."
Time Trial Test
Three days after winning her Olympic gold, Cooke lined up in the individual time trial. The road race has taken its toll, but Cooke improved on the 19th place she had achieved in the event in Athens, finishing 15th as Pooley took the silver medal behind American Kristin Armstrong.
Any suggestions that Cooke's Olympic success was a fluke were banished later that year when the four-time junior world champion landed her first senior world title in the women's road race. She covered the 138.4km in Varese, northern Italy, in 3:42.11, overhauling Vos in a race for the line, with Arndt third.
You might also like...