Christine Ohuruogu Picks Up Gold in Beijing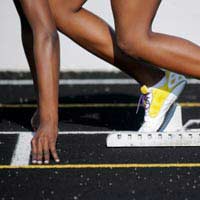 For all the success Great Britain had at the 2008 Beijing Olympic Games, only one British track and field athlete won a gold medal in China. The honour went to Christine Ohuruogu in the women's 400metres. It completed a remarkable resurgence by the 24-year-old following a one-year ban from the sport.
Only two years earlier, Ohuruogu's Olympic dreams lay in tatters. In August 2006, she was suspended by UK Athletics (UKA) after missing three out-of-competition drugs tests in the previous 18 months. The following month she was handed a one-year ban – backdated to 6th August – by UKA and under British Olympic Association (BOA) rules that meant an automatic lifetime ban from future Olympic Games.
On 29th August 2007, only 18 days after her competitive comeback, Ohuruogu won the 400m world title in Osaka, Japan, running a personal best of 49.61 seconds to pip fellow Brit Nicola Sanders by four one-hundredths of a second. Three months later, Ohuruogu had her lifetime ban from the Olympics overturned on appeal due to "significant mitigating circumstances".
Second Chance For Ohuruogu
At the time, Ohuruogu said: "I am so, so happy. I can honestly say I am not a drugs cheat because I have been tested during the time of my ban and during the time of my competitions. The testing procedures we have in place are there for a valid reason and I have accepted full responsibility for missing the tests. It is fantastic to know that I can compete in the Olympics again."
The successful appeal was controversial, but Ohuruogu did not waste the chance she had been given. Despite Ohuruogu being world champion, the pre-race favourite in Beijing was Sanya Richards of the USA. Richards had missed the 400m at the previous year's world championships having finished only fourth in the American trials.
But any suggestions that Ohuruogu's success in Osaka was largely due to the Richards' absence were banished during a thrilling final in the Bird's Nest Stadium. Richards blasted out of the blocks and Ohuruogu looked out of the race coming into the final bend. The American paid the price for her early pace, however, whereas Ohuruogu had timed her race to perfection – just as she had done at the world championships.
Strong To The Finish
As Richards faded, Ohuruogu drew on her renowned strength and pushed for the line, leaving her rivals in her wake. The Brit won in a season's best 49.62secs, just one-hundred of a second slower than her winning time in Osaka, as Jamaica's Shericka Williams came through to take the silver medal in 49.69secs with Richards third in 49.93.
It was not the first time Richards had gone out too fast and faded badly in the closing stages, and Ohuruogu knew her strong finish would be vital. "My coach said that the race would be won in the last 50," said Ohuruogu afterwards. "He said, 'People will start dying' and he knows I won't die in the last 50. That is how I run and it works for me."
You might also like...