James DeGale: the Middleweight Title Holder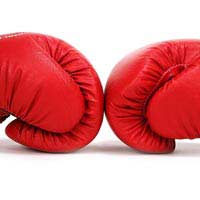 Not too much was expected of southpaw James DeGale at the 2008 Olympic Games in Beijing. The Londoner had been tipped to win gold at the 2006 Commonwealth Games in Melbourne but failed to deliver, losing to Australian Jarrod Fletcher in the semi-finals. A better class of opponent awaited DeGale in China, and his reputation for freezing on the big occasion did not inspire confidence.
None of that seemed to concern the 22-year-old, however, as he put together a string of outstanding performances to claim the middleweight title in Beijing. He made a dominant start with a 13-4 points win over 29-year-old Egyptian Mohamed Hikal and eased into the quarter-finals with a comfortable 11-5 win over American Shawn Estrada.
DeGale was guaranteed at least a bronze medal following a sensational 8-3 win over Kazakhstan's Bakhtiyar Artayev, a gold medallist in the welterweight division at the Athens Olympics four years earlier. Artayev had already demonstrated his class in Beijing by dispatching the world number one, Russian Matvey Korobov, to reach the quarter-finals, but DeGale was not flustered. The Briton never looked in trouble and won each of the four rounds.
Odds Stacked Against DeGale
The odds seemed stacked against DeGale again in his semi-final bout. He had met his opponent – Ireland's Darren Sutherland – on five previous occasions and lost four of those fights. But yet again DeGale made a mockery of the formbook. He gave a masterclass in how to fight off the back foot as he outpointed Sutherland 10-3 to set up a final showdown against Emilio Correa.
Cuban Correa was trying to emulate his father – also called Emilio – who won welterweight gold at the 1972 Olympics in Munich. He failed to do so, as DeGale won a bad-tempered final 16-14 to become the first British middleweight Olympic champion since Chris Finnegan triumphed at the 1968 Olympics in Mexico.
DeGale started superbly and quickly established a 4-1 lead. Correa then made his task all the more difficult by biting DeGale in the chest just before the bell at the end of the first round. The Cuban was docked two points and, faced with a five-point deficit, came out swinging in the second round. It made for an untidy bout and three times during the four rounds the boxers tangled with each other and ended up on the floor.
DeGale Holds On
The Briton had extended his lead to six points by the end of the second round, but was then rather harshly deducted two points for holding during the third round and Correa, sensing a comeback, close the gap to 12-10. At one stage during the final round, Correa closed to within a point, but DeGale retained his composure and clung on to secure a famous victory.
British Olympic boxing champions are a rare breed, but after his triumph in Beijing, Hammersmith-born DeGale voiced his desire to stay within the amateur ranks and fight for another gold medal at the London 2012 Games. If successful, he would emulate British middleweight Harry Mallin, who won gold at the Antwerp Games in 1920 and successfully defended his title in Paris four years later. "How do you top an Olympic gold? You go on and win another one in your home town," said DeGale. "I want to win a gold medal in my home town of London."
You might also like...