1896 Athens Olympics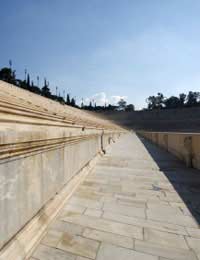 King George I of Greece proclaimed the Olympic Games reborn on 6th April 1896, some 1,502 years after Christian Emperor Theodosius I had abolished the ancient Games.
It had been no mean feat by the International Olympic Committee to organise the first Games in only two years, especially in the face of opposition from an alliance of hostile Greek politicians.
The Panathenaic Stadium, also known as the Panathenaicon, was the first to host the modern Olympics. The site - between the hills of Agra and Ardettos over the Ilissos river - had been transformed in 330-329BC to host the athletic competitions of Panathenea festivities, and between 140 and 144AD it had been restored by Herodes Atticus.
60,000 Capacity
Excavated in 1870, it featured a track 204.07meters long and 33.35m wide and had a capacity of around 60,000. A public subscription fund for the restoration project raised 13,000 drachma in just two months at the start of 1895, and then Alexandrian billionaire Georgios Averoff donated one million drachma.
For the 1896 Games, a section of the terraces was fashioned in wood, as there was not sufficient time to shape and install all the marble slabs required, but the construction was completed after the Games to give the city a worthy monument.
There were 43 events contested in nine sports - track and field, cycling, fencing, gymnastics, weightlifting, wrestling, swimming, tennis and shooting - and all 245 competitors were men. Fourteen nations were represented - Australia, Austria-Hungary, Bulgaria, Chile, Denmark, Egypt, USA, France, Germany, Great Britain, Greece, Italy, Sweden and Switzerland.
The First Champion
American athletes dominated, so it was perhaps appropriate that the first modern Olympic champion was an American - 27-year-old triple jumper James Brendan Connolly. He was one of 10 US athletes and a coach who had endured a 16-day crossing from America to Naples followed by a long train journey. They arrived in Athens at 9pm on 5th April and Connolly had to compete the next day.
He was vastly superior to his rivals, however, and won by more than a metre with a leap of 13.71m, with Alexandre Tuffère of France second (12.70m) and Ioannis Persakis of Greece third (12.52m). Connolly, like every winner, received a silver medal and an olive branch. Runners-up received medals alone, and there are no reward for third place.
As well as winning the triple jump, Connolly was second in the high jump and third in the long jump. In his telegraph home after winning the triple jump, he said: "The Greeks only conquered Europe. I have conquered the world."
Greece's Hero
The Americans' unremitting success and lack of modesty won them few admirers, but the Greeks did not have to wait too long for an Olympic hero of their own. Spiridon Louis, a 25-year-old enrolled in the first Greek regiment, won the first Olympic marathon on 9th April, covering the 40 kilometres from Marathon to Athens in two hours, 58 minutes and 50 seconds.
A delirious crowd, estimated at 60,000, greeted his arrival in the stadium and King George was at the finish line to congratulate him. Louis said: "It was a moment I could never have imagined. The crowds were calling my name. Flowers and bouquets were raining down on me and hats were flying into the air."
Such was the success of the Games that the very Greek politicians who had conspired to make them fail attempted, with the King's backing, to overthrow the IOC and keep the Games in perpetuity. They failed and it would be 108 years before the Games would return to Athens.
You might also like...