Past Paralympic Successes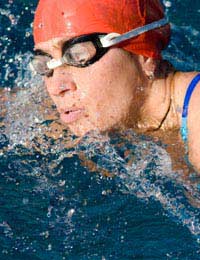 Brazilian swimmer Clodoaldo Silva produced one of the most incredible success stories of the Paralympic Games at Athens in 2004. Silva, who has cerebral palsy, competed at his first Paralympics in Sydney four years earlier and won four medals: silver in the men's 100 metres freestyle, 4x50m freestyle relay and 4x50m medley relay and bronze in the 50m freestyle.
If Silva's performances in Sydney gave an indication of what he was capable of then his full potential became apparent at the Brazilian trials for the 2004 Paralympics. He improved all his personal bests and broke two world records.
Silva was outstanding in Athens, setting four world records and five Paralympic records on his way to six gold medals and one silver. He won the 50m, 100m and 200m freestyle, 50m butterfly, 150m individual medley and 4x50m medley relay and was second in the 4x50m freestyle relay.
Remarkable Determination
German Martina Willing has overcome two disabilities to win Paralympic medals in an astonishing variety of sports. Willing is both blind and a paraplegic, yet has shown remarkable determination to conquer the difficulties in the course of a successful career.
At the 1992 Paralympic Games in Barcelona, Willing collected a full set of medals, taking gold in the javelin, silver in the discus and bronze in the shot. Rather than then wait four years for the next summer Paralympics, Willing travelled to Lillehammer in 1994 for the winter Paralympics and added two more medals – silver in the women's 3x2.5 kilometre cross country skiing relay and bronze in the 7.5km free technique biathlon.
Further success followed for Willing at the next three summer Paralympics. She won javelin gold and bronze medals in both discus and shot at Atlanta in 1996, silver in the shot at Sydney in 2000 and bronze in the shot at Athens in 2004.
Double Gold
Oumar Basakoulba Kone was a double gold medallist for the Ivory Coast at the 1996 Atlanta Paralympics. He won the 400m in 50.23 seconds to edge out Iceland's Geir Sverrisson by two-hundredths of a second and set a world record of one minute 55.45secs to add the 800m gold. Kone struck gold again four years later in Sydney by retaining his 800m title.
Remarkable Japanese swimmer Mayumi Narita is one of the world's leading Paralympic athletes and produced gobsmacking performances at both the Sydney and Athens Paralympics. Wheelchair bound since the age of 13 due to an inflammation of the spinal cord (myelitis), Narita took up swimming in 1994 and shortly afterwards was involved in a traffic accident that made her quadriplegic.
After 10 months of rehabilitation, Narita returned to the pool and at Atlanta in 1996 she won five medals - two gold, two silver and one bronze. In 2000 at the Sydney Paralympics, Narita won six gold medals and one silver, yet she managed to better that incredible performance four years later in Athens, setting six world and seven Paralympic records on her way to claiming seven golds and a bronze.
The Dutch dominated seven-a-side Paralympic football for three Games and five players - Carlo Dengerink, Peter Guntlisbergen, Paul Heersink, Arno de Jong and Jaap de Vries – were in the squads that struck gold in 1988, 1992 and 1996.
You might also like...