Great Paralympians Past and Present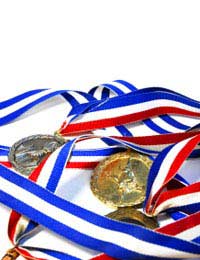 Great Britain's Dame Tanni Grey-Thompson won 11 gold medals at Paralympic Games during a remarkable career. The wheelchair racer is a six-time winner of the London Marathon too, yet Grey-Thompson's large haul of Paralympic medals came on the track over distances between 100 and 800 metres.
The fact she was the first woman to break one minute for the 400m and also the first woman to break two hours for the marathon demonstrates Grey-Thompson's amazing versatility. Her Paralympic career began at Seoul in 1988, when she won bronze in the 400m.
Grey-Thompson, born with spina bifida on 26th July 1969 in Cardiff, was sidelined for a year after spinal surgery but returned in sensational fashion and claimed four gold medals at the 1992 Barcelona Paralympics, winning the 100, 200, 400 and 800m with world records in the 100 and 400m.
Eleven Golds
Four years later in Atlanta, Grey-Thompson retained her 800m title in a world record and won silver at 100, 200 and 400m, but at 2000 in Sydney, Grey-Thompson matched her Barcelona feat with gold medals in the 100, 200, 400 and 800m. In Athens, at the age of 35, Grey-Thompson won gold in the 100 and 400m to take her tally to 11 golds and confirm her place as one of the greatest Paralympians of all time.
By the time she wound-up her career in 2007, Grey-Thompson had broken 30 world records and claimed five World Championship gold medals, and in the run-up to the Beijing 2008 Paralympics, still held European and British records at 100, 200, 400 and 800m.
An MBE in 1992 was followed by an OBE in 2000, and in 2005 Grey-Thompson was made a Dame of the British Empire. In 2006, Grey-Thompson was elected to the Laureus World Sports Academy and she is the only member with a disability.
Most Decorated
Swimmer Trischa Zorn, blind since birth, is the most decorated Paralympian in the history of the Games. The American competed at seven Paralympic Games between 1980 and 2004 and won an incredible 55 medals - 41 gold, nine silver and five bronze.
Zorn, born in California on 1st June 1964, came out of retirement to compete in the Athens Games at the age of 40. She won bronze in the 100m backstroke and was elected by her fellow Americans to carry the United States flag at the closing ceremony.
In 1980, Zorn came close to qualifying for the USA Olympic team in the 200m backstroke, finishing only hundredths of a second behind Linda Jezek, Sue Walsh and Libby Kinkead at the trials. The versatile Zorn struck Paralympic gold in freestyle, backstroke, breaststroke, butterfly, medley and relay events and held a plethora of world records throughout her remarkable career.
Dominant Vergeer
No-one in world sport is as dominant as Esther Vergeer is in women's wheelchair tennis. Vergeer, born in Woerden, Holland on 18th July 1981, became a paraplegic at eight years old after surgery to remove hemorrhaging blood vessels from her spinal cord.
She won gold medals in singles and doubles at the 2000 Paralympic Games in Sydney and repeated the feat four years later in Athens. In the run-up to the 2008 Games in Beijing, Vergeer was defending a five-year unbeaten record in singles, having won every match since a 6-1 6-4 quarter-final defeat to Australian Daniela Di Toro at the Sydney International in January 2003.
Vergeer rose to the position of world number one in April 1999 and demonstrated her complete dominance of the sport by winning 125 consecutive singles matched without dropping a set between August 2004 and October 2006.
You might also like...
these are very good comments!!!
OLLIEMAN
- 28-Jun-12 @ 9:33 AM